Hey everyone! When live theater opened back up again here in Utah I set a goal to support as many theater companies and shows as I possibly could once I received my vaccinations. And since April I have done just that seeing a total of 49 shows and concerts. I can't put into words what an incredible experience this has been and I am so grateful for all the talented individuals who have sacrificed to make these shows. You are my heroes!
While I enjoyed every show I saw (to varying degrees) I thought it would be fun to profile the best I saw of theater 2021. I obviously did not see everything, and I only saw 1 cast of each show so this is by no means a comprehensive look at everything that came to Utah theater in 2021. Just my picks. Here we go:
Best Play- (granted I only saw 1 non-musical but I love it so much): The 39 Steps at Hale Center Theatre Orem.
This incredible play has 4 actors playing 150 characters!! I don't know how they pull it off but it is unbelievable to watch and hilarious. I wish I could have seen it more than once because it's that fun.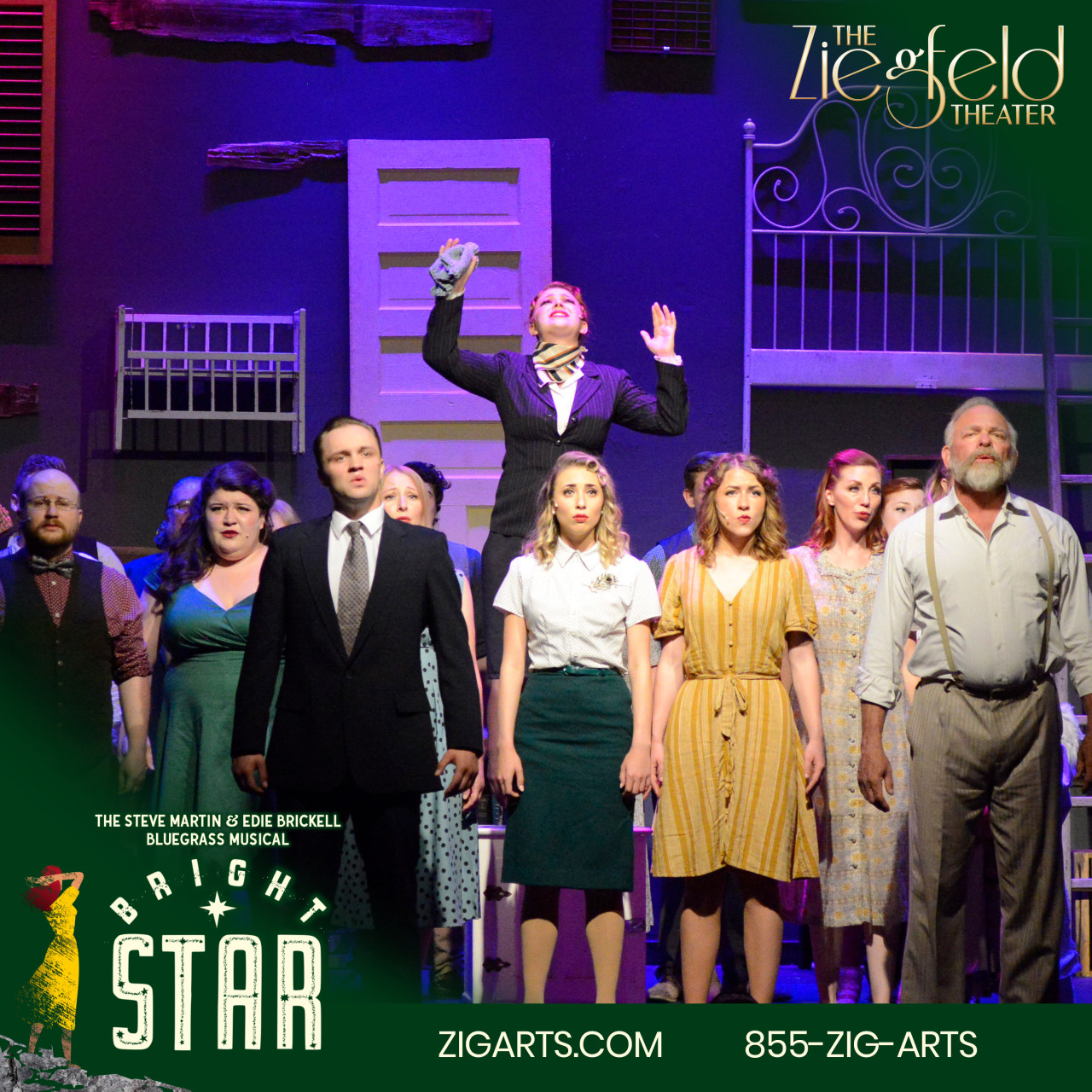 Best Musical- Bright Star. Ziegfeld Theater.
Picking the best musical I saw (not including Broadway NYC) is a challenge. I saw so many great shows! However, when I thought about all the factors I have to go with Bright Star at the Ziegfeld Theater in Ogden. It was Broadway level quality with an incredible production and cast. This show will make you cry, laugh, and fall in love with the characters and I can't imagine it being done better than at Ziegfeld. (And I've seen the Broadway touring company with Carmen Cusack playing Alice!). This is a stunning show, and I hope I get up to Ogden again soon to see another ZigArts production soon.
Best Male Performance- Russell Maxfield as Harold Hill in The Music Man (Center Point Legacy Theater)
Another highlight of the year was the production of The Music Man at Center Point. I am going to see Hugh Jackman in 2022 on Broadway and let's just say the bar has been set high. Maxfield was perfect as Harold Hill, and I adored the entire show. '76 Trombones' and 'Trouble' were the highlights, but I loved it all.
Best Female Performance- Jisel Soleil Ayon in Guys and Dolls as Sarah Brown at Hale Centre Theatre Sandy:
Guys and Dolls was probably the best show I saw at Hale Centre Theatre all year and Jisel Soleil Ayon was magical as Sgt Sarah. I love her singing voice and she had great chemistry with Preston Taylor as Sky. Sometimes I wish we had pro-shots of these musicals because I would watch this one repeatedly.
I was not surprised at all when I heard Jisel was cast as the lead in the national touring company of Waitress. My only regret is it isn't coming through Utah! Congrats to her!
Best Production Design and Effects- Sweeney Todd (West Valley Arts)
This was my first time seeing Sweeney Todd and I was blown away by the production. All the performances were excellent but the way they used the theater-in-the-round sets to create the murderous barber shop was seamless and built atmosphere well. It was definitely the most under-seen show of the year. It broke my heart to see so many empty seats for such a great show.
Best Youth Production- Bye Bye Birdie– Lehi Arts Council
This was mostly a young cast and they did a great job. I have a lot of nostalgia for Bye Bye Birdie as it is one I acted in when I was in high school. The costumes, choreography and singing were all excellent and there was a real community spirit about the entire show I loved.
Best Couple- Annie Get Your Gun. Hopebox Theater. Olivia Casper and Stefan Kurzuis
Hopebox is one of my favorite new finds in the Utah theater scene. I loved every production I saw there, and I love their mission of helping a local cancer patient with every show they do. Annie Get Your Gun was my favorite of all they did, and I saw the Silver Cast with Olivia Casper as Annie and Stefan Kurzuis as Frank. It also had great choreography and a lively ensemble.
Hidden Gem Theater- Pleasant Grove Players in Pleasant Grove Library. She Loves Me.
A lot of these could be considered hidden gems but the most hidden was the PG Players in the Pleasant Grove Library. All the shows here are directed by Howard and Kathryn Little and She Loves Me had the delight of the two leads played by married couple Alex and Melinda DeBirk so there was great chemistry. This is a small room in the library and they did a lot with simple sets. It was a wonderful night of theater.
Best Ensemble- The Drowsy Chaperone. Scera Center for the Arts
I saw the original Broadway cast of The Drowsy Chaperone when it was in previews in 2006, so my bar is pretty high for this hilarious comedy. Fortunately Scera came through with a great version with a terrific ensemble that made the comedy work. Every lead did a great job and the choreography and sets were fantastic. It was worth the drive down to Orem to see it!
Biggest Surprise- Shrek: The Musical. Murray City Amphitheater
I am not the biggest fan of DreamWorks animated film Shrek but I was determined to see everything I could this summer so count me as shocked when I thoroughly enjoyed Shrek: The Musical. The performers at the Murray City Amphitheater deserve a lot of the credit because it was really hot that day, and I don't know how they didn't get heat stroke in their heavy costumes!
To my surprise I found this musical to be funny and sweet with great songs, choreography and costumes. Especially Lucas Charon as Lord Farquaad. I will definitely be seeing more at the amphitheater next summer because it was great!
Best Adult Theater- Next to Normal and Company at Midvale Main Street Theatre-
Midvale Main Street Theatre is one of the finds of this year. They have youth productions as well but I saw 2 of their mature shows, Next to Normal and Company, and was thoroughly impressed with both. I loved the lighting and set design for both and the performances were outstanding. I honestly can't picture either show being done much better. It was Broadway level quality shows hidden away in Midvale, Utah!
Other highlights of the year were Rent at On Pitch Performing Arts Center, the new revamped A Christmas Carol at Hale Center Theater Orem, The Last 5 Years at Mid-Valley Performing Arts, A Christmas Story at Center Point (and Newsies), and Daddy Long Legs at Hale Center Theater (such an underrated show. I've seen it 3 times with David Smith in the lead and he and Kelly Coombs have great chemistry).
What about you? What's the best in theater you've seen in Utah or anywhere else in 2021?